Which? Trusted Traders was set up to recognise those traders that provide a high standard of service to their customers, treat them fairly and have all the correct processes and procedures in place. Most Which? Trusted Traders are individuals or small to medium-sized businesses.
Several large retailers wanted to work with Which? Trusted Traders, to get an endorsement for the services they offer, to provide reassurance to their customers.
Which? Trusted Traders does not endorse the retailers themselves, or their products. Instead, it assesses the services that these retailers provide, such as installation or design, and then endorses the service if they are successful.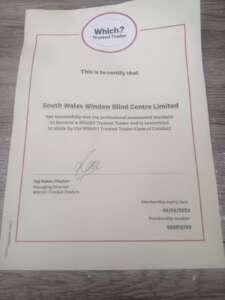 You can read all our reviews and check compliance here
https://trustedtraders.which.co.uk/businesses/south-wales-window-blind-centre-ltd/#reviews